Check-In and Check-Out
Check-in is by appointment only! We will send you an email one week prior to your arrival to figure out the best time for your check-in appointment.
Guests may check into their suite after 4 pm. Check-out time is 11 am on the day of departure. We are sometimes able to accommodate special requests regarding check-in and check-out times, so feel free to ask us and we will do what we can.
Our Reception office is located at the back of our building at 235 Healdsburg Avenue, near the footbridge to the parking lot.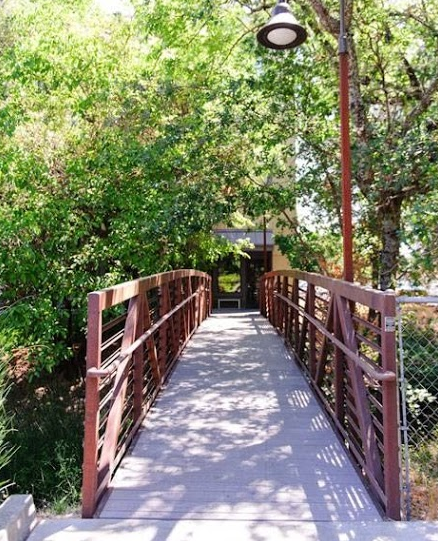 Directions & Parking
While the suites are located at 235 Healdsburg Avenue, our parking lot is accessed from Matheson Street. If you're using GPS to navigate here, the parking lot address is 12 Matheson Street.
Heading North on Highway 101: take the second Healdsburg exit, Central Healdsburg (503). You'll end up on Healdsburg Avenue.
Proceed north on Healdsburg Avenue, through one traffic light and directly across the roundabout. You will come to a stop light at the corner of Healdsburg Avenue and Matheson Street.
Turn left and drive down Matheson Street. Our parking lot is the third driveway on the left.
There will be a sign for Two Thirty-Five Luxury Suites parking. Once you're in our parking lot, drive through to the end. The last spots on the right marked "Hotel" (13-22) are for our guests. Hotel reception is located at the end of the footbridge.
Parking is free for all Two Thirty-Five guests! We generally allot three spaces per suite – please let us know if you are planning to arrive with more cars.
We also offer a complimentary charge for all our guests who make their way to Healdsburg in an electric car at our EV charging station!
Deposit & Cancellation Policy
We are a boutique hotel with a limited number of suites, so cancellations have a significant effect on our business. For this reason, we are unable to make exceptions to this policy, so please read this carefully before booking your stay.
We require a full deposit at the time of booking, so when you make a reservation, we charge your credit card for the entire amount of your stay (including taxes and fees).
If you decide to revise or cancel your reservation more than 90 days before your stay, we'll refund the whole deposit except for a 5% change/cancellation fee. This fee helps us cover the credit card transaction fees associated with both charging and refunding your card.
If you decide to revise or cancel your reservation 30 to 90 days before your stay, the change/cancellation fee increases to 20%.
Within 30 days of your stay, the entire deposit is non-refundable.
Frequently-Asked Questions
Can I bring my pet to Two Thirty-Five?
We're sorry, but no pets are permitted in the suites at any time.
Is smoking allowed at the suites?
Per California law, no smoking is allowed anywhere on the premises of the hotel.
How many people can sleep in the suites?
Each suite sleeps six adults in three California King beds. The suites do not have roll-aways or sofa-beds.
For groups traveling with small children, cribs and small mattresses can be provided. Please email info@twothirty-five to see if we can accommodate your group.
Is WiFi provided at the hotel?
Yes! Two Thirty-Five provides free, high-speed Wifi throughout the suites.
Can I ship a package to the suites in advance of my stay?
Please do not ship any packages directly to the hotel. Our Front Desk staff are occasionally called away from the Reception area during business hours, so we cannot reliably accept deliveries. The last thing that we want is for an important item to be missing or in-transit during your stay.
However, you can ship packages to the local UPS Store and they will hold them for pickup. This is a much safer and more reliable method for sending items in advance of your stay. The UPS Store is located just a few blocks from the hotel:
The UPS Store
1083 Vine St, Healdsburg, CA
(707) 433-0396
Website